WHAT'S HAPPENING ONLINE 
---
SUNDAY LIVE
Come on join us on Sunday mornings at 10:30 for our very own Youth Live stream!! We'll chat, do challenges, laugh a lot, pray, worship and read the bible together. All from the comfort of your own home. Along with plenty of ways to interact your not going to want to miss out.  Hosted on YouTube just search "Emmaus Road kids and youth" or click this link
Youth Morning Prayer
Every Thursday Morning at 8:00am a group of us get together on zoom to pray! It's a great way to start the day and we touch on all different topics that affect young people today. To get involved you can sign up to receive the link by clicking here -----> Youth Morning prayer sign up! 
Youth Collectives
Collectives are our midweek discipleship groups for 10-18 year olds. We'll meet on Zoom every week on Mondays or Tuesdays, hang out and explore what it means to follow Jesus. There are currently 4 Youth Collectives:
Year 6+7 Collective (Mondays)
Year 8+9 Collective (Tuesdays)
Year 10+11 Collective (Mondays)
Year 12+13 Collective (Tuesdays)
If you'd like to join a Youth Collective, tips on how to use Zoom or would like some more info, drop us an email to youth@emmausrd.com
Friday Night Hang Out
Each Friday night we get together on zoom to hang out, unwind and have some fun! Join us from 7:00pm-8:00pm where we'll be playing AmongUs, Quizzes, Bake offs, Talentshows and more. You can grab the zoom link by signing up here.
Emmaus Rd Youth Podcast.
Check out the Emmaus Rd Youth Podcast below. It can also be found on Spotify and Apple Podcasts, where Joel, Hope and the team play silly games and chat about some of the big topics affecting Young people today

Instagram
Now more than ever is the time to be following @emmrdyouth on Instagram. Daily devotionals, fun challenges, inspiring stories and funny videos is some of the content we'll be posting. Come and join us. Scan or click the image below to be taken to our page.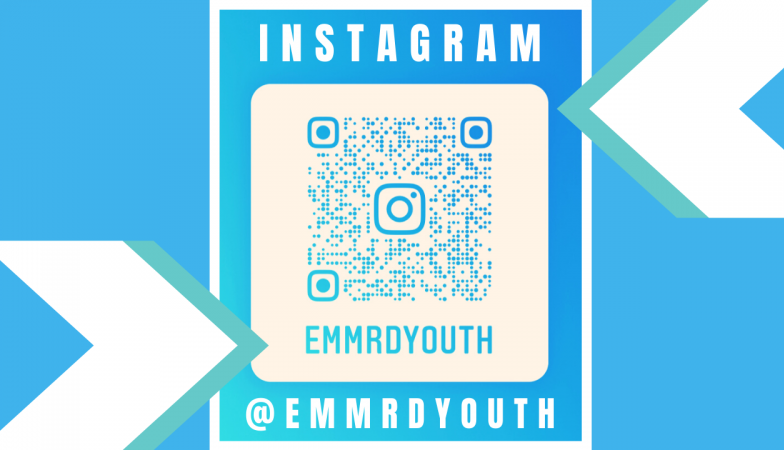 Younger Youth Journal
We're passionate our EmmausRd Youth at helping young people engage with and encounter God though their bibles. Thats why we've created a series of downloadable journals. With a bible passage, discussion questions and space to dive deeper into applying passages of the bible to their lives, we're hoping it will be a really helpful tool that young people can use to help bring the bible to life. Save them, download them, print them, scribble or just read them. Whatever takes your fancy YY Journal - Outrageous Miracles - E1/YY Journal - Outrageous Miracles - E2/YY Journal - Outrageous Miracles - E3/ YY Journal - Outrageous miracles - E4